By Dirisu Yakubu
ABUJA – Constitutional lawyer, Barrister Mike Ozekhome yesterday heaped praises on the Code of Conduct Tribunal, CCT for its no case submission ruling in the trial of Senate President, Dr. Bukola Saraki. Ozekhome said despite the attempt by the executive to manipulate the legal process, the CCT refused to be compromised.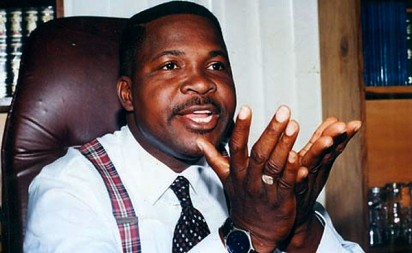 "The Code of conduct tribunal headed by Mr. Danladi Umar (not Justice Umar, as always erroneously reported) was bold, courageous and right, in spite of visible executive interference and manipulation to have discharged and acquitted Senate President, Dr. Bukola Saraki, on all the counts of false declaration of assets leveled against him," he stated.
Apparently elated with the outcome of the case that has dragged on for months; the Senior Advocate urged other anti-graft agencies to learn a lesson from the Umar-led CCT rather than resorting to media trials.
He asked: "Economic and Financial Crimes Commission, EFCC, where is thy much trumpeted media trial of cases, dramatic hype and conviction of suspects on the pages of newspapers and social media, leading the country to now? Presidential Advisory Committee Against Corruption, PACAC, where has your bare knuckles, warped and puerile "legal advice" to the vindictive Executive to denigrate and humiliate otherwise innocent opponents and opposition of government led it to?
"You have actually done more harm and damage to the so called anti -corruption "war" than all the vampires and barbaric, primitive accumulators of our national wealth and common patrimony joined together. Through your poor researched and myopic stance, the government has serially lost cases. Rather than put your "Fuji House of Commotion" in order, you always shamelessly declare that "corruption is fighting back" and that the courts are against the anti-corruption fight, as if the courts owe the Executive a sacred duty and obligation to help it trample on citizens' rights and win badly prepared and lousily prosecuted cases at all cost," he continued.
Ozekhome added that he had no doubt at the commencement of Saraki's trial that the federal government would lose the case for according to him, there was no evidence to aid the prosecution on the matter.
"I had predicted last year, on television and my two weekly columns in the Sun and Telegraph newspapers, after a calm reading of daily media reports of the case that Saraki will win, be discharged and acquitted. This Nostradamic prediction was anchored simply on the premises that no scintilla of evidence was being led by any of the four prosecution witnesses to prove the legal ingredients of the alleged false declaration of assets by Saraki.
Rather, what we saw from the EFCC stable as usual, was the usual Baba Sala' Alawada Kerikeri's Odeon histrionics and sensational media hype of Saraki receiving humongous pension from Kwara State government, whilst simultaneously receiving salary from the National Assembly ;of Saraki taking loans to buy many properties; of Saraki owning many assets, etc. How did these prove specific declaration of assets?" he asked adding that "no attempt was made by the EFCC to prove the essential ingredients of false declaration," he added.
The post Saraki: Ozekhome lauds CCT ruling appeared first on Vanguard News.
Source: vngrngr