La Liga giants, FC Barcelona could not hide their emotions when they expressed gratitude to the Qatar Foundation and  Qatar Airways for their sustained sponsorship which has lasted for close to a decade.
The period has also seen the club excel, winning almost all trophies on offer, including the UEFA Champions League, the La Liga titles, Copa del Rey, the FIFA Club World Cup and the European Super Cup.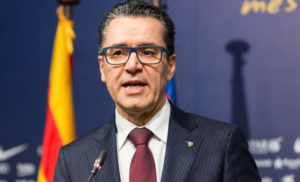 Speaking after their board meeting Monday, Club spokesman Josep Vives, said,"We are grateful to the Qatar Foundation and to Qatar Airways for having been excellent sponsors for many years. They have been sponsors who have acted properly, who have fulfilled their obligations, and who have helped FC Barcelona in a reasonable and significant way,​."
Vives went ahead and gave in detail, the agreements made by the Board of Directors in Monday's meeting in Barcelona.
Following the success of the sponsorship by the Qatar Foundation, the Club spokesman also said negotiations were on to finalize a sponsorship agreement with Qatar Airways. Once it sails through, the Qatar Airways would become the official airline of the Club.
"Vice President Manel Arroyo said a few days ago that that was what we were working towards," Vives said, adding, "we are holding talks with Qatar Airways. The official airline sponsorship is a product that exists, and it is one that the Club is selling."
Vives concluded by expressing one of FC Barcelona's main desires: "Our hope is for peace and harmony to be restored in that part of ​​the world, in that region. We are speaking from the heart; beyond any other considerations or geopolitical interests."
The post Grateful Barca shower praise on Qatar appeared first on Vanguard News.
Source: vngrngr
Comments from Facebook