By Demola Akinyemi
ILORIN—A Lagos-based constitutional lawyer and Senior Advocate of Nigeria, SAN, Mr. Kemi Pinnero, has faulted what he described as "the flagrant and continuous disobedience" of court orders, warning that such development is an invitation to anarchy.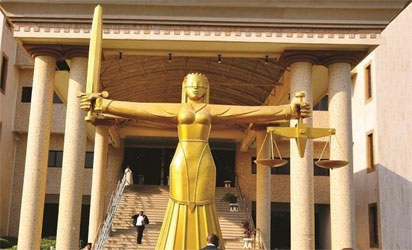 Pinnero, who urged well-meaning Nigerians to rise up and speak against the trend, contended that it portends a serious danger to the nation's democracy and Rule of Law.
He spoke in Ilorin, the Kwara State capital, in a paper he delivered on the occasion of the first personality public lecture of the Law Students Society, Faculty of Law, University of Ilorin, UNILORIN, in honour of former Dean of the Faculty, Professor Wahab Egbewole, held at the main auditorium of the university.
Speaking on the Lawyer and the Society, Who Needs Who?, he said: "Society is under the law, even the government is the creation of the law and government derives its powers from the law.
"Government is under a duty to obey the law because the law has empowered the judiciary to make orders so as to keep peace since the laws are there for the society, government and entire citizens of the country."
The post Govt must obey court orders – Pinnero appeared first on Vanguard News.
Comments from Facebook