By Chinonso Alozie, Owerri
STAKEHOLDERS in the extractive industry have said that state in the South East region deserve a better stake in  mining and other sectors of the industry to improve the wellbeing of the people, especially  host communities. This was the resolution adopted at the annual general meeting of Civil Society Organisations, CSOs, under the auspices of the Publish What You Pay, PWYP, initiative at Owerri, capital of Imo State, last week.
The South East Zonal Coordinator of PWYP, Mrs. Ogechukwu Enwelum, who spoke in an interview with the South East Voice, after the meeting said that Ndigbo deserved to have a higher standard of living by getting interested in the natural resources that abound in their various communities. Enwelum said that communities where raw materials were discovered in their areas had been side lined in the process of their extraction, adding that the development portends negative consequences.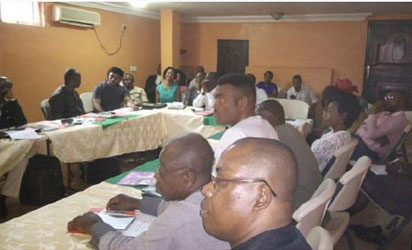 She said, "the negative effects of the inappropriate attention to the affected communities have contributed largely to youth restiveness, avoidable pains and sufferings as well as clashes and other forms of hostilities. What we are demanding for is accountability and transparency in the extractive sector where communities see the purpose for which God has given them the natural resources in their areas. Those involved in the extractive industry should take the priorities of their host communities more seriously.
"There is need for the states in the southeast geopolitical zone to ensure that they publish the finances they get from the extractive industry. This will go a long way in bringing openness in the way our natural resources are managed, particularly when the people are involved in the process.
"We are going to galvanize all the Civil Society Organisations, CSOs, in the zone in ensuring that there is accountability and transparency in the extractive industry for good governance of the zone. There is need for every CSO in the zone to be alive to its responsibility and understand that a lot needs to be done in pushing the challenges of the zone to the front burner as it affects the extractive sectors."
Speaking also, the Anambra State Coordinator of the Global Youth Empowerment and Social Welfare, Dan Chukwu, noted that the journey to sensitize the people in the southeast zone on transparency and accountability in the extractive sector was not going to be easy. "Members of PWYP, must be ever ready to face the challenges before them to make sure that the objectives are achieved. We have to collectively reason together and encourage each other to face the enormous task," he added.
The post South East Region deserves better stakes in mining and other sectors – CSOs appeared first on Vanguard News.
Comments from Facebook