Prof. Anthony Eneji, Cross River Commissioner for Agriculture and Natural Resources, has blamed the current high cost of Garri in the state on poor roads network among other challenges.
Eneji told newsmen in Calabar on Sunday, that farmers and garri sellers pass through a lot of stress to bring the commodity to consumers in the state.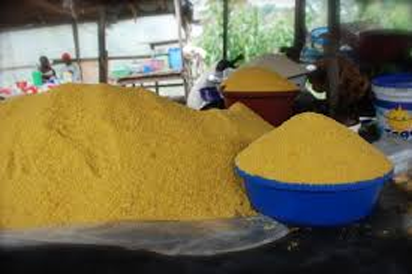 He said that farmers do not have access to improved cassava varieties and relevant inputs to enable them increase their production at lesser costs.
He said that efforts were on by the state government to address most of these challenges.
"Apart from bad roads, we also have the issue of new varieties of cassava stems as approved by the International Institute for Tropical Agriculture (IITA), Ibadan.
"We are making efforts to procure the new cassava varieties and as you know it costs money to bring them.
"You also have the issue of high demand for garri as a staple food in the state
"Where there is high demand but less the supply, it is natural law of economics for prices to rise.
"We are also trying to distribute inputs to farmers, especially fertilizers for this year's farming season," Eneji said.
The commissioner said that the government had appealed to the Federal Ministry of Agriculture to create cassava multiplication centres in the three senatorial districts of the state.
"As the largest producer of cassava in Nigeria, Cross River needs to have cassava multiplication centres, to boost our output.
"Rather than we running to IITA to buy, other states should come and buy from us, this will boost our production output," he said.
Eneji said that the state through the World Bank Assisted Fadama III financing project was stepping up its cassava production value chain.
A market survey conducted by NAN showed that, a basin of garri in Calabar currently sells for N12,000 as against the former price of N5,000.
Three cups of garri goes for N200 as against the former price of N100.
The post Poor road network, reason for high cost of garri in Calabar – Commissioner appeared first on Vanguard News.
Comments from Facebook