Acting President, Prof. Yemi Osinbajo, today agreed with many eminent Nigerians that it was time to change the country's policing system.
Osinbajo, who was Special Guest of Honour at the launch of a book written by former Inspector General of Police (IGP) Dr. Solomon Arase, at the Congress Hall of Transcorp Hilton Hotel, in Abuja, agreed with the Chairman of the occasion, former governor of Cross River State, Mr Donald Duke, that Nigeria will not move forward with the present system.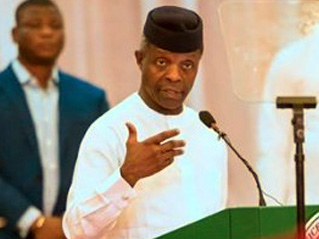 But, while Duke and other personalities at the event canvassed for the establishment of state police, Osinbajo said that the government was looking at Community Policing.
"There's no way we can move on with the way we are policing now. We are looking very carefully at the issue of community policing, and very soon we will come out with a policy on that," said Osinbajo, who was represented by the Senior Special Adviser to the President on Political Affairs, Mr Babafemi Ojudu.
Duke said, "The decentralization of policing and presence is the greatest deterrent to crime and allows for better monitoring and intelligence gathering."
He added, "Policing is local and local knowledge is absolute. A fellow from Sokoto posted to a command in Ekiti could require at least 6-12 months to understand his environment and then off he goes again on another posting."
Duke disagreed with Arase, a Professor of Law, who has reservations about State Police in his book titled: "Law on Prevention and Detection of Crimes by the Police in Nigeria".
" I must say, however, that I disagree with the author's position that state policing, though theoretically ideal, will be abused and that states indeed are too financially handicapped from embarking on this.
"I posit instead that we must always strive for the ideal without losing sight of reality; this reality being that we are severely underpoliced."
Edo State governor, Mr Godwin Obaseki, said, "We must think of how to break down policing. We need state police. You can't do it all from Abuja. It's an issue we can't delay further."
Former Interior Minister, Gen. Godwin Abbe rtd, said, "For any government to succeed, you need an efficient police.
It's the key element. We cannot afford to continue to manage the police the way we manage it now."
Five former Inspectors General of Police were at the book launch. Arase had served four of them as Personal Staff Officer.
They are: Mr Aliyu Atta, Mr Tafa Balogun, Mr Sunday Ehindero, Mr Mike Okiro, and Mr Ogbonna Onovo.
Balogun, who spoke for them, expressed admiration for the language of delivery and quality of mind of the author, which he described as excellent.
He said, "Like the letter of Apostle Paul to the Corinthians called the Epistle of St Paul, this is the Epistle of Solomon to the Nigerian society."
Arase also got commendations from the Oba Ewuare II of Benin, Oba Akiolu of Lagos, and the Chairman, Senate Committee on Police Affairs, Sen. Abu Ibrahim.
In his speech, Arase called for a knowledge-driven policing system, as he announced that proceeds of the book sales would go towards extending scholarship opportunities to children of policemen that have demonstrated commendable urge for intellectualism in line with the underlying motivation of the publication.
"Towards this end," he said, "I have already incorporated the Solomon Arase Foundation which will coordinate this initiative on a sustainable basis. The Foundation will also act as a platform for the organisation of Annual Solomon Arase Strategic Police Management Lecture Series for Senior Serving and Retired Police and Criminal Justice Managers in Nigeria and across the African Continent. This is being conceptualised to further my zeal for the strengthening of criminal justice delivery in the Continent through professional networking and capacity building."
Arase expressed thanked President Muhammadu Buhari for being a motivational personality in his life.
He said, "It remains my fervent prayers that Almighty God perfects his health and grants him strength needed to sustain his service to our Fatherland."
Arase's book was reviewed by Prof. David Badaiki, and dignatories at the event included representives of Services Chiefs, Senior Advocates of Nigeria – Chief Bayo Ojo, Dr Wale Babalakin, and Dr Muiz Banire; the Chairman, Federal Inland Revenue Service, Mr Babatunde Fowler; Special Media Adviser to the President, Mr Femi Adesina; Hon. Haliru Jika; Ogun State government representatives led by Secretary to the State Government – Mr Taiwo Adeoluwa and CP Olayinka Balogun rtd; representative of the IGP, DIG Joshak Habila; retired DIG Marvel Akpoyibo, DIG Sotonye Wakama; Cardinal John Onayekan; Amb. Rabiu Dabiri and Amb. X. Imoren.
The post Osinbajo, eminent Nigerians canvas new policing system at Arase's Book Launch appeared first on Vanguard News.