The national chairman of the All Progressives Congress, APC, Chief John Odigie-Oyegun as part of the ceremonies to mark the two year anniversary of his party in power spoke in an interview on the journey and how the administration has fared in office.
Excerpts: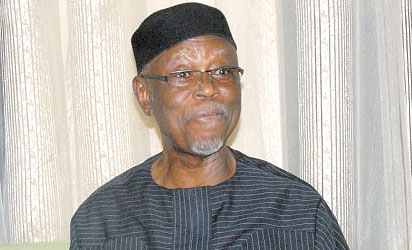 By Omeiza Ajayi
Two years in power, how has it been for the All Progressives Congress APC especially with series of crisis in the party and people threatening to pull out?
It has been challenging, it has been delicate but I think at the end of two years I can say that I have largely succeed in moulding a party which is now ready to do battle.
There is no likelihood (of a pull out) but should it happen, the threat and damage it will do to the party will be very minimal today. Which part of the country, the South West? So the mainstream of the party is now well placed and the point has been proven clearly from Ondo State that in a free and fair election nobody's word is certain.
Is it safe to say that APC has been completely democratised?
Totally! People don't see it but there is a new party, totally new and stronger party.
We didn't work to dislodge anybody. We worked to establish permanently that the party is supreme. But when any part of the party wants to prove they are larger than the party then the party has to stand and fight and of course the president has always said that the party is supreme.
When he came back from his first medical trip I welcomed him and all his courtesies before his statement and when he mentioned 'our oga pata pata' he meant it. The supremacy of the party is one thing he has always hammered on. I heard the question one of you asked about the relationship between me and him; you have to work with the nature of the man you have hired as president. He is quiet. I know what he likes and I know what he doesn't like. He is the kind of man that doesn't like crowd, he would prefer a one on one which we had; the minute he sees five people and he doesn't know two out of them and so he can't trust them, he cramps up and so you won't get value.
We have worked together from my (civil) service days so I know him better than a lot of people that know him so we get on very well. We complained about lack of funding in the party and again, that is the nature of the man, he wouldn't call the minister of petroleum to say make sure you give money to the party; he wouldn't do it. He doesn't want to be involved in anything that has any possibility of being shady; that is our president. That is his major contribution to the change agenda, it is his integrity.
Is it true that the president does not see with you eye to eye as it is alleged in some circles?
When he came back the first time, we saw and he has gone back now and I know he wants to be left in peace. Again that is my nature, I am not someone that gives in to every photo opportunity and rushes. Once everyone knows there is going to be a group photograph with the president everyone dives but I don't do that; that is me. I have done a lot of things with the president in the past so for me it isn't a big deal, I don't need all those courtesies.
We talk. During the campaigns we were together every day, we did gist, we talked, we laughed and he would point and say 'John how can we satisfy the yearnings and screaming of this massive crowd'? So I have known him from my civil service days, I have known him from the military days. I was one of his close aides so let them enjoy themselves and pose for photographs, that isn't the issue, the issue is that we communicate and the relationship is cordial.
Is it not because that there is no reward system in the APC administration that you are having so many avoidable crises?
I think you have asked the most difficult question and I am not too sure from which angle to answer it but first I must be very honest and frank; the reward system and appointment hasn't been as pleasant to the party as it ought to be, part of them haven't been well thought out as it ought to be. We have cases which wouldn't have happened where individuals who are currently in court with our elected officials, one case a governor which is right now at the Supreme Court have been given appointments. We have cases at least one or two known current appointees of the PDP have been given, we have cases where in a particular state from the same local government I think going to the same ward three people have been given appointment and these things and many more and the more important one is that we have a lot of cases where faces not known to the party during the most difficult part of the struggle of this party have gotten appointment so it has caused a lot of disquiet within the party. I have been abused, I have been called names, I have received text messages of all nastiness, I have got petitions in writing and there is a general sense in what is going on in the practise of the party all over the country. We have brought this to the attention of government and we hope and pray that what remains will be devoted to rewarding those who really, actually, the faces I saw, the faces my state chairmen saw working, taking risks during the long period of the campaign. I think more than that I should say that one has to be brutally honest sometimes in matters like this.
Sir, you said you have a cordial relationship with Mr. President but we heard that while he was in London earlier in the year that he totally refused your coming to see him?
You are right and wrong! I was to go and he said 'look there is no need' because he knows the people he is dealing with, he too knows those that have to see him because they need to see him and he knows between us there isn't that kind of pressure and necessity. I asked him do you think I should come and he said don't worry I would be coming back soon and to me that was good enough. I know maybe from the point of view of PR, maybe once you go there and sit there and get photographed maybe yes if you look at it from that point of view you have a point. What is important is that when he finally arrived he personally arranged that I was one of the very few people to come and welcome him. What more do you need?
Do you agree with some who say that a cabal has hijacked the presidency and what efforts are you putting to give your party success in 2019 given insinuations the president will not run?
Why build bridges if there is no river to cross? Why don't you wait until you come across a river then you build a bridge? With all due respect for what it stands for, what is critical today is that our prayer is our good Lord will restore the president to robust, good health; that is the first thing. Thinking 'will he be president in 2019' is really not doing any good, his need today is good health; when we get to 2019 is for him to decide if he wants to run or if he doesn't want to run and to consult the party on his decision; if he wants to run, good, and if he doesn't want to run, the country isn't bereft, the party isn't bereft of capable hands. But the prime thing that he (Buhari) wants isn't to think of 2019, it is to have his health fully restored and I am sure he will give anything just to have his health restored. Let's terminate it at that point; when 2019 comes we will deal with the issues that arise.
Your party made no fewer than 81 electoral promises but today many Nigerians seem to be disenchanted. Was it that you under rated the quantum of problems Nigeria was facing?
No, we didn't underrate it; unless you had this gift of prophecy, you couldn't have known what was coming. If I asked you to describe the situation in 2015, I am sure you won't have added that the crude oil market was going to collapse. Did you foresee that?
Our government for 16 years just kept importing petrol, export crude, sending away ship load of crude that was not accounted for, individuals appropriating the money that belonged to me and you; to the nation. So please be a little bit softer, kinder and look at the details of how we got to where we are today. I am not going to abuse PDP or anybody but this is the reality, this is the truth of how this country is where it is today and we are labouring, the president is labouring now to diversify the country. You don't know how close we were to collapse. So please tell your colleagues because when I read some of these things I am pained to the marrow. This country was almost destroyed and I tell you whatever people are saying it is good that president Buhari came at the time he did; that my brother is the reality, is not that we weren't prepared we were very prepared.
On the cabals, I am more interested in the economy of the country; we are still looking for the cabal and when we find them I will let you know.
What is your reaction to insinuations that the anti-corruption drive of the government is selective? All those in the PDP are rogues but when they defect to APC they become saints just like all those with corruption allegations in the APC?
This is a question you people keep asking and we keep answering; there was no APC four years ago, there was no APC so it is only those that were in office and in power and dealt with our patrimonies as if it belonged to them, it is inevitable in any case.
Two years have gone, so what are you putting on ground to convince Nigerians that they did not make a mistake in voting you to power in 2019?
Yes we have had two hard years, we have had two years of blocking all the loopholes, two years of rebuilding the fractured natural resources, two years of preparing a new base of economic blueprint; of a new economic take off for the Nigerian nation. It has started to bear fruit already but until he sits down the ordinary man will not recognise that we have taken the turn for the home stretch. So our expectation is that a lot of things we have been doing will now start manifesting, will now start bearing fruit. In agriculture, production is being encouraged at such a rate that in one or two of the critical crops we expect to be self sufficient in those two years. In two years we expect massive implementation, accomplishment as far as the new railway system is concerned. I think they will finish the Lagos – Ibadan end by the end of next year.
In the field of solid mineral a lot of work has also been done and also a lot of interest is being generated by those who want to process locally. Those are some of the things that are happening now; minerals are being shipped abroad in large lumps and blocks and a lot of these things are going to be processed locally with backward integration into the actual mining activities. So the fruits are beginning to manifest but the critical area we still have to beat is power.
So once power is available as it would be in the next few months employment becomes real. All that we are doing today, social intervention programs how many people can government employ? But if you give the blacksmith, the shoemakers, the welders and all these little industries power then you have created massive employment within the economy.
When are you going to hold your mini convention?
I think it will hold, we are almost at that point now and we have to hold it. Let me be frank, the health of the president hasn't helped more so because there is a clear indication of the respect he has for the party; he wants to attend, he wants to be there. Yes he wants to be there we are very grateful but perhaps he doesn't have to be. I don't want to give a date and say later that it has been postponed but we will have it once all the factors are in place.
The post I have been abused because of some Buhari's appointees – Odigie-Oyegun appeared first on Vanguard News.
Comments from Facebook