By Simon Ebegbulem
BENIN—GOVERNOR Godwin Obaseki of Edo State has offered to rehabilitate and provide jobs for two victims of human trafficking, promising that the state government will provide security for victims who are bold enough to expose their traffickers.
Two of the victims,  (names withheld), were deported from Russia after they were used as women of easy virtue by their sponsors.
However luck ran out of two of the alleged traffickers,  a man said to be Pastor and his sister, last week, when they were arrested by the Edo State Police Command, for alleged trafficking of the victims and other girls to Russia.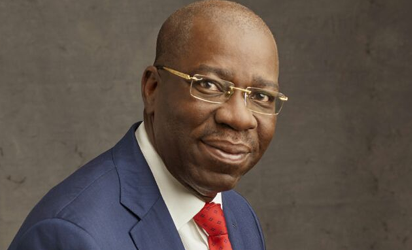 Obaseki was particularly touched with the story of one of the victims, who was deported to Nigeria after she was able to pay 45,000 dollars to her sponsor.
She also contracted a strange ailment which she is still suffering from as a result of the sex trade she was forced into by her sponsor.
However, governor Obaseki who met with the two girls weekend with leaders of the Initiative for Youth Awareness on Migration, Immigration, Development and Reintegration, a None Governmental Organization (NGO), led by its President, Solomon Okoduwa, vowed to crush those involved in the illicit trade in the state and assured that apart from ensuring the welfare of the victims, government would provide protection for those volunteers to expose the traffickers.
The governor who had opened a Special Intelligence Bureau at Government House led by CSP Haruna Yusuf to crack down on human traffickers in the state, gave accommodation to the two victims and promised that after rehabilitation the state government would give them a job.
Expressing his gratitude to the governor, Okoduwa noted that the governor's gesture would encourage more of these girls to come up and expose the traffickers.
The post Obaseki pledges rehabilitation, jobs for two human trafficking victims appeared first on Vanguard News.
Comments from Facebook