By Nwabueze Okonkwo
ONITSHA – Despite the decision by the leader of Indigenous People of Biafra, IPOB, Nnamdi Kanu, that his group would boycott the November 18 governorship election in Anambra state, unless a referendum was held for Biafra restoration before then, various stakeholders and various pro-Biafra groups have taken a contrary decision to that effect.
They said their decision to hold a contrary view was predicated on the need for Ndigbo to have unity of purpose, be their brothers' keepers and ensure urgent development of the region to carter for the needs of her citizens.
Rising from their crucial meeting convened by the Senior Special Assistant to Governor Willie Obiano on Political Matters and the governor's Liaison Officer to the Biafra War Veterans, Comrade Arinzechukwu Awogu in Awka, weekend, the pro-Biafra groups contended that the South-East governors must not take the quit notice given to Ndigbo with a kid's glove, hence the need to start putting enablers in place in case of any eventuality.
Current travails of Ndigbo
The groups comprising a faction of IPOB; Movement for the Actualization of the Sovereign State of Biafra, MASSOB; Biafra Liberation Council, BLC; Eastern Peoples Congress, EPC; Biafra Solidarity Movement, BSM; Biafra Revolutionary Organization, BRO; Joint Revolutionary Organization, JRO; World Union of Biafran Scientists, WUBS; Biafra Liberation Crusaders, BLC, Biafra Students Union, BSU; Salvation of Peoples of Biafra, SPB; Costumary Government of Biafra, CGB; Council of Elders Indegenous People of Biafra, CEIPB; Bilie Human Rights Initiative, BHRI; Biafan Government in Exile, BGIE; Ohaneze Ndigbo, OTU Suwakwa Igbo among numerous others.
President of Ohanaeze Ndigbo, Anambra State chapter, Chief Damian Okeke Ogene who spoke at the meeting, advised Ndigbo to face the current travails of Ndigbo with caution, adding that Ndigbo need to use their brains and intellect now more than ever as Nigeria of today has not treated Ndigbo fairly.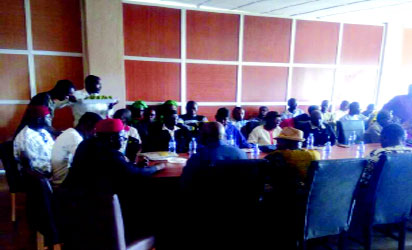 Okeke-Ogene cautioned against call for election boycott and said that Ohanaeze Ndigbo is leaving no stone unturned in the quest for Ndigbo to start implementing the think-home philosophy as espoused by Governor Willie Obiano, even as he regretted that the social media has been used to over heat the polity in recent times, especially the issue of no election in Anambra state.
Also speaking, the founder of OTU Suwakwa Igbo, Professor Pita Ejiofor noted that boycotting of an election is an evil wind that blows no one any good, pointing out that Ndigbo are still suffering from partial boycott of the 2006 national census which some people refused to be counted.
Ejiofor, therefore, advised the pro-Biafra groups to drop calls for election boycott so as not to give the enemy reasons to decimate our people again. He made reference to Dr. Michael Okpara's boycott of 1964 election and the unpleasant consequences that followed it.
The Biafra War Veterans, speaking through its image maker, Major Ikechukwu Nwalunor (retd) said that they were happy to be part of discussions and decisions on the way forward as they have a lot to contribute as people who fought the war and are still alive today, adding that Biafra is a must-achieve but election boycott is anathema and called for a rethink.
Comrade Uchenna Madu, the MASSOB leader, in his address to the meeting said that while other groupings in Nigeria were alluding to separation that the Southeast leaders met at Enugu and said that they stand for united Nigeria and stressed that it is comments like that that create gulf between the so called leaders of the region and pro-Biafra groups.
Pragmatic solution
He, however, said that Anambra election is no issue compared to the October 1 quit notice, adding that there is still enough time to mend issues about election boycott.  He assured that all the pro-Biafra groups will speak on the issue when the time is ripe.
Earlier in his remarks, the convener, Awogu noted that the meeting was called to take a critical look at the current state of Ndigbo in the entity called Nigeria, the recent quit notice given to Ndigbo in the northern part of the country and the forthcoming Anambra state governorship election which has been generating heat, with a view to proffering a pragmatic solution that will be acceptable and beneficial to Ndigbo.
Comrade Awogu also noted that the meeting agreed in principle that Anambra State governorship polls will hold as scheduled. "But that we should not forget that October 1 date (quit notice) will come first before November 18 event (Anambra election), so we should be wary of October 1 deadline affecting the November 18 election and not the call for election boycott by the Indigenous People of Biafra, IPOB."
He said, "supposing the threat (quit notice) is carried out on October 1, its impact and corresponding multipliers could likely snowball, God forbid, into what may in itself have grave consequences on the November election. Many have not thought along that direction but are rather preoccupied with the imaginary call for the Anambra State election boycott. Let us wriggle out of the threat posed by October 1, then see whether election will not hold in Anambra state the succeeding month."
The post Pro-Biafra groups disagree with Kanu, insist on holding Anambra gov election on Nov 18 appeared first on Vanguard News.
Comments from Facebook