His name is Evangelist Musari Kolawole, known as Irawo Jesu of Irawo Jesu Gospel Band, a Lagos indigene from Ibeju Lekki. He started his ministry of gospel music five years ago and has since dropped two albums of about ten tracks.
In this interview he tells us the story of his life, how he rose from a street newspaper vendor to become a music star. According to him, that happened with plenty of help from Honourable Abike Dabiri, the current Senior Special Assistant to President Muhammadu Buhari on Foreign Affairs and Diaspora. Hear his story.
By Adetutu Adesoji
Why did you choose gospel music?
I will say it is a gift from God. Although I'm not in the choir, I just discovered myself because sometimes when I sleep I would sing from my sleep until I wake up. Before I started singing I was selling newspapers, you know in life you must pass through some forest before you get to the promise land, but I thank God for what he has been doing since I started singing. I would also like to appreciate Honorable Abike Dabiri because she has been there for me for so long; she has really been very supportive in my life.
How did you meet Honorable Abike Dabiri?
I met her when I was selling newspapers; I was going about my business one morning in the estate, when her husband called me and bought a paper from me. From then on I started selling newspapers to them. There was a time she gave me money to resit for my O' level exam in order to further my education, she has been like a rock in my life.
How instrumental has she been to you musical career?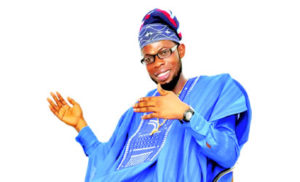 Until today she has been supportive of everything I do, financially and in other aspects, she prays for me always.
So far, how many songs have you sung?
My first album 'Atonigbanijesu' was released in 2015 and it had six track. The second one 'Akosejaye Lo Bi Ogo' with four tracks will be released soon.
Can you list some songs from your new album?
'Akosejaye Lo Bi ogo', 'Ipe', 'Omije Ile Iwosan', 'Iyin'.
You do most of your songs in the Yoruba dialect, why?
I will say that is my talent and pattern, it is what God has given to me; I call my music 'Miliki Gospel. I don't believe in copying others, if I copy others I might not get to where I have been destined to get to.
Why do you call your music Miliki gospel?
I call it Miliki gospel because I sit to sing. Be it in the church or at an event, I sit to sing, it is a relaxing type of music. I got the name Miliki gospel directly from God.
You earlier said you sing from your sleep, did you get some of your songs from your dream?
'Akosejaye Lo Bi Ogo' was revealed to me in my dream.
What inspires your kind of music?
I'm gifted by God, I can start singing while sitting, I could be in a bus and start getting inspiration and people will wonder if I'm alright. Songs come to me naturally, I don't drink alcohol or smoke like other people do.
How successful was you first album?
It was successful, I appreciate God.
There are so many gospel artistes out there; do you think you have what it takes to break even?
I believe everyone has their own calling, we all sing differently. Some people will sing only for their audience to dance without passing any message across. I don't release albums anyhow; it takes about a year after recording before I release an album. After singing in the studio I will sit back, relax and listen to the songs in order to know where corrections are needed, unlike some artistes who will just go into the studio to record and release without taking their time.
Are you saying you are more concerned with the message you are passing than the financial aspect?
We are all doing this for the financial benefit but we must also remember that we need to win souls as well. When you put good stuff out money will definitely come, but when you think about money first there will be a loss.
Who are your role models?
I like Yinka Aiyefele, King Sunny Ade, Evangelist Ebenezer Obey and my tight friend, Omo Abule.
Do you any message you want to pass across?
What I want to say to people is that they should be patient in whatever they do.
The post How Abike Dabiri lifted me from newspaper vendor to music star — Irawo Jesu appeared first on Vanguard News.
Comments from Facebook