By Lawani Mikairu
The Kwara State Government has commended Med-View Airline for extending its domestic flight operations to the state. The Secretary to the Kwara State Government, Alhaji Shola Gold Isiaka,  made the commendation during a courtesy visit by officials of Medview Airline to his office after the airline's inaugural flight to Ilorin on Tuesday.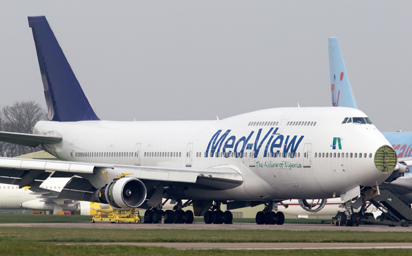 The flight which had earlier landed at the airport was received by aviation officials and other top dignitaries, including the state Commissioner for Works and Transport, Mr. Afo Yahaya Isiaka said the government had a very good relationship with Medview Airline in the past with regards to Hajj operations, adding that the commencement of scheduled flights would further cement the relationship.
According to him, the state has chosen Medview Airline to airlift Kwara pilgrims to the 2017 Hajj due to its confidence on the airline.  Isiaka said :"So, on behalf of the governor, Dr Abdulfatai Ahmed, we want to welcome you to Kwara State".
"We believe that your coming here will create employment opportunities for our people. It will give us more options to choose from and even people from our neighbouring states like Oyo, Osun and Kogi, will be able to benefit from your services. "
Speaking earlier , the Chief Operating Officer of Medview Airline, Mr Lookman Animashaun,  said the airline had been supportive of the Kwara State government, especially with regards to Hajj operations which began in 2007.
"Animashaun said the airline had built a 12-bedroom guest house in Ilorin and also secured another office close to the airport for easy interface with passengers.
"So,  we have been on ground in Kwara State but to further demonstrate this,  we have started regular scheduled flights to Ilorin which started this morning.
"Our intention is to connect Kwara State to Abuja and all the other routes on our network and we are optimistic that this will also be of benefit to the neighbouring states," Animashaun said.
The COO said the airline would operate three flights weekly to and from Ilorin on Tuesdays, Thursdays and Saturdays.
He said apart of connecting Ilorin to Lagos,  passengers of the airline also be able to connect to northern cities like Yola,  Kaduna, Kano, Maiduguri via Abuja and passengers from  Niger. Osun and Oyo will as well enjoy the airline presence in Ilorin.
The post MedView gets commendation from Kwara State government appeared first on Vanguard News.
Comments from Facebook