•Calls for review of revenue sharing formula
By Olasunkanmi Akoni and Monsur Olowoopejo
LAGOS State Governor, Mr. Akinwunmi Ambode has demanded review of 1999 constitution to exclude Federal Government from land administration in the country, describing it as an aberration which the ongoing Constitutional amendment process must address in line with the principle of fiscal federalism.
Ambode, also faulted proposed stamp duties bill, describing the bill, which was still on the floor of National Assembly, as an attempt by the federal government to cripple state internal generating revenue mechanism in favour of its agency, Nigerian Postal Service, NIPOST.
The Governor made the remarks, yesterday, while declaring open a joint working retreat of Senate and House Representatives Committees on the Review of 1999 Constitution held in Lagos.
He posited that land should remain state affairs vested under supervision of State Houses of Assembly to legislate upon, saying, "land should remain a residual matter and Land Use Act should become Land Use Law of the States."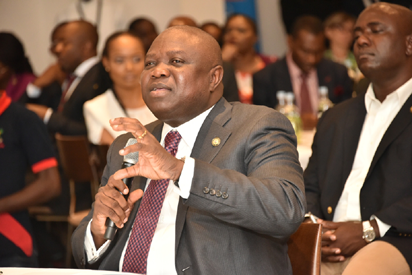 Ambode's reaction came barely a month after elder statesman and former Federal Commissioner for Works and Housing, Femi Okunnu, submitted report to the state government on Federal Government Assets and on land matters in Lagos.
According to him: "It is an aberration for the Federal Government to continue to operate land registry in Lagos State. The Federal Land Registry which was established when Lagos was Federal Capital Territory ought to have been closed down and all title therein moved to the Lagos State Land Registry. The National Assembly is urged to look into this and correct this anomaly," Ambode added.
On Stamp duty bill, the governor stressed that the proposed bill is a grave threat to principles of fiscal federalism in the country.
He said: "As representatives of the true beneficiaries of the Act as it presently stands, there is need to put an urgent and immediate end to its further coordination by the National Assembly which also has the noble tradition that once a matter is before the Court, all activities on the matter would be suspended.
"It is therefore our hope and earnest expectation that the proposed amendments will be given due consideration," he added.
While highlighting some of the unhelpful provisions in the Constitution, Governor Ambode attributed the imbalance in the financial resources of states and Local Governments to the current unhealthy revenue sharing formula which is heavily tilted in favour of the Federal Government, calling for an urgent review to enable other tiers of government realise their potentials and accelerate growth and development.
The post Constitutional review: Ambode seeks FG exclusion from land matters appeared first on Vanguard News.
Comments from Facebook