…calls for establishment of battery recycling plants
By Ebele Orakpo
"Most of the batteries (about two million pieces) used for energy storage in Nigeria today are imported from India and China although these batteries can be produced in Nigeria. With $3m to $4m, a fully integrated deep cycle battery plant can be built with provision for pollution control system," said Engr. Franklin Omusi, Managing Director, Genesis Renewable Energy Systems Limited and Genesis Chemicals Limited. Omusi said this at the 11th edition of the Potentials of Renewable Energy seminar series with focus on Energy storage organised by the Energy and Environment Desk, Delegation of German Industry and Commerce in Nigeria.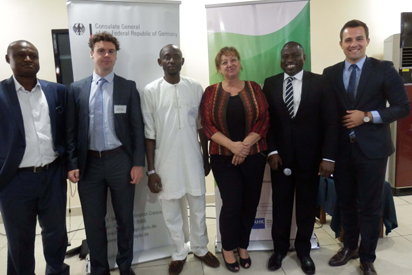 Speaking on Prospect of Energy Storage Systems production and usage in Nigeria,  Omusi noted that in the 1980s, Nigeria had over 13 established battery manufacturing plants focused on SLI batteries for automobiles but today, only one has survived as others shut down production in the 1990s due to many factors.
He said: "With a population of over 180 million, there will always be a serious deficit in electric energy supply in Nigeria from conventional means. To tackle this deficit, electricity generation and distribution need to be decentralised. Solar PV systems utilisation for minigrids/microgrids, solar home and office solutions will grow and with this, will come large demand for electrical energy storage systems."
Mr. Suleiman Yusuf, CEO of Abuja-based Blue Camel Energy Ltd focused on the future challenges Nigeria will be facing, having once introduced energy storage systems on a large scale. Besides the long-term environmental and health implications and the need to organize battery recycling into a formal and controlled sector, he also highlighted the enormous business opportunities around industrial recycling in Nigeria.
"Nearly 99 million lead-acid car batteries (LABs) are produced each year. Each contains 18 pounds of lead and one pound of sulphuric acid. 90 per cent of the batteries are recycled while un-recycled ones end up in landfills where they can leach into surrounding soil and air posing a danger to plants and grazing animals. Lead is highly toxic to humans and can damage the brain, kidney, affect hearing and create significant learning disabilities in children."
On the economic potentials, Yusuf noted there are huge potentials for foreign investments in the sector. "Nigerians currently pay over 35% cost on shipment of used LABs to and from recycling plants around the world as well as import duties on their return."
He, therefore, called for establishment of recycling plants in Nigeria and best practices in management of used lead-acid batteries.
Mr. Eoin Keane, International Business Development Manager at Qinous GmbH, Berlin, talked about Lithium-ion solutions for micro-grids, describing off-grid business cases, and discussed lithium-ion technology and lead acid solutions which are available on the market. He said the company uses Lithium-ion technology to integrate other batteries, while giving examples of Qinous' application of lithium-ion systems.
The event which took place at Westwood Hotel, Lagos, focused on the development of dynamic storage systems to control energy supply, avoid blackouts and balance the fluctuations in power generation and demand which are important needs for sustaining renewable energy growth.
It brought together relevant actors and stakeholders in the industry, government and informal sector including Mr. Rene Marco Siebenhaar, Commercial, Culture and Political Attaché, Consulate-General, German Embassy; Mrs. Baerbel Freyer, Head of Energy and Environment Desk, Delegation of German Industry and Commerce in Nigeria; Mr. Godwin Aigbokhan, Executive Secretary of the Renewable Energy Association of Nigeria, amongst others.
Financed by the Foreign Energy Policy Fund of the German Ministry of Foreign Affairs, the seminar was facilitated by the Consulate-General of the Federal Republic of Germany in Lagos, the Energy and Environment Desk of the Delegation of German Industry and Commerce in Lagos and for the first time, also by the German Embassy in Abuja.
The post Experts brainstorm on energy storage appeared first on Vanguard News.
Comments from Facebook