By Gabriel Ewepu
ABUJA – AS Muslim faithful in Nigeria join their counterparts in other parts of the world to celebrate Eid El Kabir 2017, a nongovernmental organisation, PDP Rescue Group, on Friday, in its message for the festivity reiterated that nothing too much to sacrifice for Nigeria's unity and peace.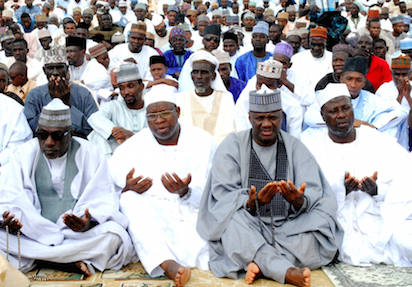 This was said in a statement signed by former Minister of Environment, Chief John Odey, also maintained that unity in diversity remains strength of the nation.
The statement reads in parts, "The leadership of the PDP Rescue Group, a political Pressure Group, warmly congratulates Nigerians, especially our Muslim brothers and sisters on the occasion of Eid El Kabir, the celebration of the feast of sacrifice.
"Eid El Kabir is the second most important Muslim holiday which is celebrated worldwide to mark the willingness of Ibrahim (Abraham) to sacrifice his son Ismaeel (Isaac), as an act of obedience to Allah's (God) command.
"As we celebrate this occasion, we urge all Nigerians and indeed our Muslim brothers and sisters to reflect deeply on the Grace and Mercy of the Almighty God who gave all for the salvation of mankind. Nothing is therefore too much to sacrifice for the love of humanity and our great country Nigeria.
"May we also use this occasion to encourage ourselves to exemplify Ibrahim's (Abraham) sacrifice in order to continue to live together as one indivisible country irrespective of our diversity and religious differences. Our strength as a country is in our diversity and we must not compromise it for anything.
He also charged the government to ensure that Nigerians enjoy good governance and positive change in their lives with adequate democratic dividends.
"Yes, they might be one or two issues bothering on the present economic situation and governance in the country, but there are proper avenues to channel these grievances, especially our representatives at the National Assembly and other agencies of government.
"Finally, we pray for our leaders at different levels in Nigeria to draw inspiration from God Almighty during this occasion and give their all as a sacrifice for just and equitable governance.
"The security of lives and property is the cardinal responsibility of government and the current administration must therefore step up on this areas to justify the populate votes of Nigerians", he said.
The post Eid El Kabir 2017: Nothing much to sacrifice for Nigeria's unity, peace – PDP appeared first on Vanguard News.