By Chimaobi Nwaiwu
Nnewi – Movement for the Actualization of the Sovereign state of Biafra MASSOB Wednesday during their 18 years Anniversary said that it will continue to work harmoniously with the Indigenous People of Biafra, IPOB,for the restoration of Biafra.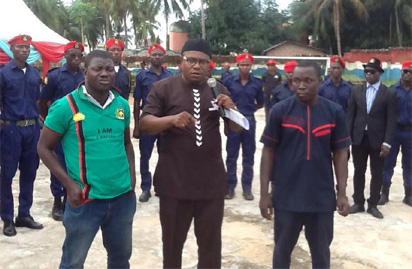 Addressing members of the group at Rojenny Tourist Center Oba, leader of MASSOB Comrade Uchenna Maduis working said that MASSOB was born out of injustice meted against Ndigbo who are the main builder and lovers of Nigeria.
"You cannot suffer to built a build a house and you are pushed out and you feel happy, we do not hate Nigeria, it is because of injustice we have found in Nigeria and the way the Igbos are being treated that we are fighting for Biafra restoration.
"We love Nigeria more than those who claimed to love Nigeria. If you go to part of the country, you will see Igbos developing the place, building houses, but the Hausa do not do that, tell me any house in Igbo land that a Hausa is the landlord, go to anywhere they settle, they do not build block houses they built shanties.
"We must continue the journey for Biafra restoration as handed over by Dim ChukwuemekaOjukwu, we are not intimidated by the presence of the Operation Python Dance soldiers who are occupying our lands today, they will come and make their noice and go, we will continue to do what we are doing.
They are afraid that we have an agenda to carry out on October 1, but we want to tell them that we do not have any programme on that day that is why they are afraid and deploying troops in Biafra land.
"We are saying enough is enough for slavery, intimidation and relegation to the background. We are Biafrans and they should allow us to be. MASSOB under my leadership is the same with IPOB, if any thing happens to IPOB it happened to MASSOB, If anything happen to Nnamdi Kanu, it happened to me.
"We must continue to work together, no man, no power, no threat will stop, Biafra restoration for certain. Nobody can destroy Biafra or destroy Nnamdi Kanu. We shall continue to be nonviolent in the struggle no matter the provocation by the security agents.
"It is only Nigeria that is still maintaining the name given to it by the colonial masters. Other countries have changed their names through separations, but Nigeria still maintain their name, Zimbabwe changed the Rhodesia name given by their colonial masters, Ghana from Gold Coast."
He said that the Arewa Youths and their elders withdrew the quit notice they gave the Igbos because the Middle Belt they have been using to fight their wars told them they were not part of their October 1 fighting the Igbo.
The Chairman and Board of Trustees of International Society for Civil Liberties and Rule of Law (INTERSOCIETY) Mr Emeka Umeagbalasi in his remarks, accused the federal government of dividing the country by not doing what they suppose to do to keep Nigeria together as well as deploying soldiers to South-East geopolitical zone.
"The Federal Government has failed to right some wrongs of successive administration, including the present government, instead it is deploying soldiers to do the job of the police, thereby creating unnecessary tension in the zone, but despite of deployment of troops the people were ready to die because they have been deprived of their rights."
The Biafrans in Diaspora in their goodwill massage read by Mr. Lotachukwu Okolie, said that struggle, even though may seem murky and cloudy with the encircling of enemies the agitators should not fear those that trust in their chariots and weapon of war because they with God.
"There is need for unification of Biafrans with an impenetrable wall of love that no enemy can find crack to sneak from especially among the forefronts of the leadership of the struggle.
"Our unity of purpose and spirit of oneness, strength in numbers and our believe in never ignore the cry of our brothers. We in the diaspora are keenly following the development from Nigeria state, that is only worst by day, from the daily tramping of every basic human rights of Biafra to outright mass-murdering, to subjecting our people to all manner of inhuman and degrading treatment".
In their remarks, the South-East Regional Coordinator of Yoruba Liberation Command (YOLICOM) Mr. Adeleke Michael and Movement for Oduduwa Republic Mr. Makanjuola Muhammed said that they were not against of Biafra restoration because they themselves in Yoruba land want freedom from Hausa/Fulani oligarch.
They however used the forum to apologize for the Biafrans for the alleged betrayal of their elders during the Nigerian civil war, saying the new generation they represent are working with the Biafrans to actualize the Biafran restoration and Oduduwa liberation from the Hausa/Fulani oligarchs
The post MASSOB insists on Biafra, says it will continue to work with Kanu, IPOB appeared first on Vanguard News.
Comments from Facebook